Press Release
Michael S. Schultz, P.E. joins GEI's team as Boston Area Manager
July 12, 2023
Senior leader will drive growth and expansion of services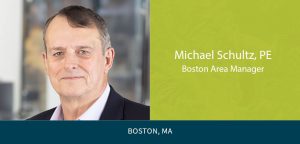 Boston (July 12, 2023) – Michael "Mike" Schultz, P.E. has joined GEI as Boston Area Manager. With over 35 years of experience in geotechnical and environmental engineering, Mike will lead strategic operations, market initiatives, and key pursuits for GEI's offices in Woburn and Franklin, Massachusetts.
Mike has extensive leadership, management, and business development experience. He previously worked at CDM Smith providing oversight and strategy for major underground projects.
"Mike is a fantastic addition to GEI. He combines a deep understanding of the type of work we do with a growth mindset and a fresh perspective," said Patrick P. King, East Region Operations Manager. "He has the experience and vision needed to lead our team, drive growth, and ensure we deliver exceptional and expanded services to our clients."
"I am very pleased and super excited to join the team at GEI," Mike offers. "I look forward to bringing my experience and talents to bear in continuing to deliver the quality services that GEI is known for and to help build on that success to grow and expand our solutions for clients."
Mike holds a Master of Science from the Massachusetts Institute of Technology and is a licensed Professional Engineer in 10 states, including Massachusetts. He is a member of professional societies, including the Underground Construction Association (UCA) of SME, the American Society of Civil Engineers and the Boston Society of Civil Engineers. He is also a member of the Disputes Review Board Foundation (DRBF).
###
About GEI: GEI Consultants, Inc. is a consulting engineering firm that delivers professional services that improve our world's built environment. With more than 1,440 staff and 54 offices in North America, GEI is a leader in providing multi-disciplined engineering and environmental services to a range of private and public sector clients, both domestically and abroad.
As a member of the employee-owned GISI family of companies, we foster personal relationships with our clients and support our staff in a partnership model, underpinned by continuous learning and sharing of knowledge. We retain proven, recognized experts and attract the best minds to deliver to our clients a refreshing blend of technical expertise, collaborative spirit, and innovation that is rare in our profession. We engineer solutions in five primary end markets: Water Resources, Energy, Buildings, Infrastructure, and Industrial. For more information on GEI, please visit www.geiconsultants.com.