Press Release
Nicolas Betancur joins GEI in Boston as Senior Geotechnical Project Manager
October 16, 2023
Infrastructure engineer brings leadership and extensive civil experience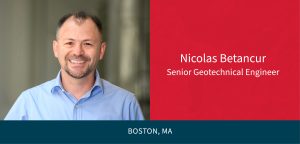 Boston, MA (Oct. 16, 2023) – Nicolas Betancur, P.E., has joined GEI Consultants as Senior Geotechnical Project Manager. With over 16 years of experience in foundation design, Nicolas will support project delivery and pursuits for infrastructure and water solutions in the greater Boston area.
"Nicolas has strong technical skills, extensive experience on complex projects, and a passion for mentoring the next generation of technical experts," says Jeanne LeFebvre, P.E., Geotechnical Group Manager. "This combination of skills, experience, and drive make him a great addition to our team as we continue to grow our geotechnical practice in the Boston area and beyond."
Nicolas has performed geotechnical design work on transportation, flood protection, and coal combustion residuals (CCR) infrastructure projects. He previously worked at a global AEC firm as the New England Geotechnical Section Manager, kickstarting the geotechnical practice in the region in support of the transportation, resources, and water business groups.
"It is a dream come true to have the opportunity to join the GEI team," says Nicolas. "I am eager to learn from and collaborate with top-notch practitioners in our industry to deliver exceptional services to our clients."
Nicolas holds a Masters of Engineering in Geotechnical Engineering from Tufts University and a Masters of Science in Environmental Engineering from Stevens Institute of Technology. He is a licensed Professional Engineer in all 6 New England states, as well as a member of several professional societies, including the American Society of Civil Engineers, the Boston Society of Civil Engineers, and the Deep Foundation Institute.
About GEI: GEI Consultants, Inc. is a consulting engineering firm that delivers professional services that improve our world's built environment. With more than 1,440 staff and 57 offices in North America, GEI is a leader in providing multi-disciplined engineering and environmental services to a range of private and public sector clients, both domestically and abroad.
As a member of the employee-owned GISI family of companies, we foster personal relationships with our clients and support our staff in a partnership model, which is underpinned by continuous learning and sharing of knowledge. We retain proven, recognized experts and attract the best minds to deliver to our clients a refreshing blend of technical expertise, collaborative spirit, and innovation that is rare in our profession. We engineer solutions in five primary end markets: Water Resources, Energy, Buildings, Infrastructure, and Industrial. For more information on GEI, please visit www.geiconsultants.com.