Press Release
Noelle Gaspard, PE, GISP, CFM, joins GEI's Dallas, Texas, office as South Region Water Resources Practice Leader
July 14, 2023
Experienced Water Resources Engineer expands capabilities of GEI's South Region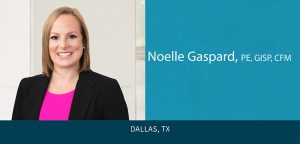 Dallas, TX (July 14, 2023) –Noelle Gaspard, PE, GISP, CFM has joined GEI Consultants' Dallas office as the South Region Water Resources Practice Leader. Noelle brings proven technical and operational leadership, which will enable her to build the water resources team both within and outside of Texas.
"Noelle brings expertise pursuing and executing stormwater analysis and infrastructure asset management projects for municipal clients across the U.S." says Scott Keating, Vice President and South Region Operations Manager. "Her expertise and experience will enable GEI to expand its practice geographically and technically in these areas with public sector clients."
Noelle's focus is on helping communities develop infrastructure GIS databases that integrate relevant data. Over the past two decades, she has been involved in a variety of projects using GIS and asset management technologies. Noelle uses these tools to assist with stormwater analysis and management, 1D/2D hydrologic and hydraulic analysis and stormwater infrastructure mapping, condition assessment, and risk analysis.
"GEI has an excellent reputation for providing a collaborative environment enabling its employees to develop the best solutions for clients' needs," says Noelle. "I'm excited to contribute to a team of well-regarded, experienced professionals in order to advance the capabilities of GEI's water resources market."
About GEI: GEI Consultants, Inc. is a consulting engineering firm that delivers professional services that improve our world's built environment. With more than 1,440 staff and 54 offices in North America, GEI is a leader in providing multi-disciplined engineering and environmental services to a range of private and public sector clients, both domestically and abroad.
As a member of the employee-owned GISI family of companies, we foster personal relationships with our clients and support our staff in a partnership model, which is underpinned by continuous learning and sharing of knowledge. We retain proven, recognized experts and attract the best minds to deliver to our clients a refreshing blend of technical expertise, collaborative spirit, and innovation that is rare in our profession. We engineer solutions in five primary end markets: Water Resources, Energy, Buildings, Infrastructure, and Industrial. For more information on GEI, please visit www.geiconsultants.com.